Morgan State University's new Tyler Hall creates quite the first impression at the 152-year-old campus in the midst of a transformation.
The modern, $88 million building off Cold Spring Lane and Perring Parkway is another expansion of the urban campus that has been experiencing a growth spurt over the past decade. Morgan opened The Earl G. Graves School of Business and Management in 2015 and the Martin D. Jenkins Hall for Behavioral and Social Sciences on campus in 2017.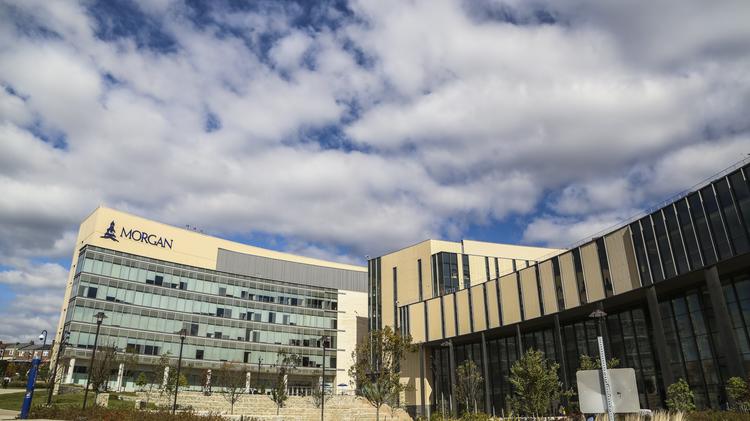 Those projects are actively in development or at the planning stage, Jones said. The student housing project will be developed in a partnership with the Maryland Economic Development Corp.
"Our enrollment has grown over the past five years and is stabilized," he said. "And we project that there will be continued growth in students."
Tyler Hall is a 139,000-square-foot development that will house the university's student services offices like financial aid, admissions, IT and student records. It will also have a 250-seat auditorium to greet new students to campus and "video walls" inside to add high-tech campus signage.
It also has a three-story atrium off the lobby, dramatic interior and exterior angles that jut off in different directions at the site and bright red siding that accents its glass and stone exterior. The project was designed by Baltimore-based GWWO Architects in a partnership with Teeple Architects of Toronto.
The building was named for Calvin E. Tyler Jr., a retired UPS executive and Morgan alumni, and his wife, Tina. The Baltimore couple have donated $5 million to the university over the years, some of it paying for full-ride scholarships for students in need, Jones said.
Tyler Hall broke ground in September 2017 and is set to open next month, Jones said. Morgan State is planning to reopen in the fall with a combination of in-person and online learning options for its 8,000 undergraduate and graduate students.
"Upon its opening, Tyler Hall will become a vital touchpoint for the university," Jones said. "It is conveniently located in the heart of campus and when students visit Morgan's campus for the very first time, many will have their first stop in Tyler Hall. As introductions go, we couldn't have a better backdrop for first impressions."